***Spoilers for "BoJack Horseman" are included below***
***TW: Discussions of depression, addiction, and generational trauma***
"BoJack Horseman" is an animated television series that follows the life of a former sitcom star challenged with addiction, depression, and strained relationships with his family. Despite its colorful, whimsical animation, the series explores a raw tale of finding meaning in life.
 Each episode within this comedy-drama encompasses other one-toned characters like BoJack's agent, Princess Carolyn, his best friend, Todd Chavez, and his rival, Mr. Peanut Butter. These supporting characters deeply contrast BoJack's complex personality and are often downwind from the trauma and mental illness that continue to plague Bojack and his current relationships. From the satirical take on the entertainment industry to its witty storytelling and the discussions on human emotion, there is much to unpack from each 20-minute episode. 
The series finale of "BoJack Horseman" was bittersweet and left a message that I believe everyone should hear once in their life. In the final episodes, BoJack comes face-to-face with all the trouble he has caused, coming close to being prosecuted for the death of his former co-star Sara Lynn due to his extensive involvement in her drug relapse. He enters into a series of dreams where he is haunted by the ghosts of everyone he has hurt through his self-destructive behavior. While in this dreamscape, BoJack comes to realize that even his closest friends have been impacted by his flippancy, self-sabotaging behavior, and nihilistic world-view.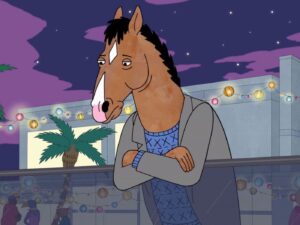 The ending of "BoJack Horseman" suggests the possibility of change and growth, even for someone as damaged as BoJack, specifically highlighting the importance of accepting responsibility and making amends. The show also explores generational trauma, as BoJack's mother, Beatrice Horseman, significantly struggled with her mental health and home life. From witnessing the after effects of her mother's lobotomy to struggling in a failing marriage with an unfaithful husband, Beatrice Horseman coped with her trauma by constantly blaming everything on a young BoJack, ultimately continuing the cycle of familial trauma.
The hopeful ending contrasts greatly with the rest of the show, where BoJack is seen continuously spiraling as his friends and family lose hope for his recovery. The show depicts this depressive state in an honest, jarring way. As BoJack tries therapy and medication, he realizes there are no quick fixes for his issues and that working through serious issues requires a painful but rewarding journey.
The show challenges the notion of a linear recovery journey, with BoJack's path to healing being filled with setbacks, relapses, and moments of doubt. This honest portrayal recognizes that recovery is rarely a straight line and that the road to healing is often messy and nonlinear. By depicting the complexities of BoJack's emotional journey, the show provides a realistic and relatable representation of the challenges individuals face when dealing with mental health issues.
While this show does not shy away from the reality of depression and anxiety, it serves as a powerful and relevant depiction of mental health, offering viewers a raw and honest portrayal of addiction, depression, and the impact of generational trauma. By showcasing BoJack's journey through therapy, self-awareness, and the importance of making amends, the show underscores the possibility of change and growth, even for individuals deeply damaged by their past.