Spoilers for "The Last of Us" are included below—that is, the show and the game.
"The Last of Us" is a show that primarily follows the tale of Joel and Ellie, two wildly different people flung together by fate and circumstance. Joel, on one hand, is an old, hardened killer who solely focuses on getting the job done, whatever it may be. On the other hand, Ellie is a spunky young teen with a mouth that wouldn't be clean if it was washed with soap and an attitude to match.
However, there is more to these two than meets the eye; Joel lost his daughter during the initial outbreak that began this story's apocalypse, and Ellie lost her best friend. These two tragedies drive the two characters' relationship as they trek across the country to find a ragtag group of rebels called the Fireflies. Ellie seems to be immune to a fungus that turns ordinary people into zombie-like creatures, and the Fireflies are the only ones who can potentially create a cure, making Ellie the key to humanity's survival.
Unfortunately, the once-stoic Joel grows closer to Ellie over the course of their journey, and he becomes much like a father figure to her. When he and Ellie finally reach the Fireflies after countless brushes with death, Joel learns that their surgeon intends to harvest tissue where this fungus primarily grows–Ellie's brain. When saving humanity means losing the girl he sees as his own daughter, naturally, he has a problem with that. As a result, he ends up shooting his way through a hospital full of people who stand between him and Ellie.
As he carries Ellie out of the operating room, Joel manages to save her life while simultaneously robbing humanity of its only chance of survival. To make matters worse, he lies to the one person he cares about, claiming the Fireflies had no potential for a cure. To make his story more believable, Joel adds that raiders suddenly attacked the hospital, resulting in mass casualties and forcing them to flee the base alone. Ellie reluctantly believes him, and that's how the story ends.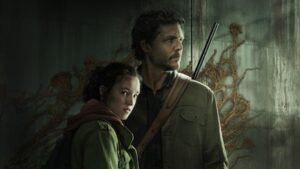 This ending leaves the audience with one question: Was Joel justified in his decision? Ellie didn't know the surgery would kill her and had not consented to the procedure, so from that perspective, Joel was just saving her life as he had done many times before. However, Ellie had made it clear earlier in their journey that she would be willing to do whatever it took to save lives. She wanted their journey to mean something because of all the people who had sacrificed themselves in the name of delivering her to the Fireflies safely. With this context, it's reasonable to assume Ellie would have chosen to give her life if it meant saving the human race. 
In the end, Joel killed innocent people and gave up humanity's only hope of a cure because of his own past trauma. He didn't care about the fate of humanity; he didn't even care about whether it was right to take away Ellie's choice. Understandably, Joel was only focused on protecting the innocent, traumatized child who he had come to view as his own daughter. Joel could not bear the thought of losing another daughter to this apocalypse, and he certainly didn't care if this choice meant endangering every other man, woman and child left on Earth.
Players of "The Last of Us: Part II" know Joel's choice will have consequences, but for now, there's only one thing left to say: Joel was thinking only of what he personally, perhaps selfishly, wanted for Ellie's future. He doomed the entire human race for the life of a girl who didn't ask to be saved.