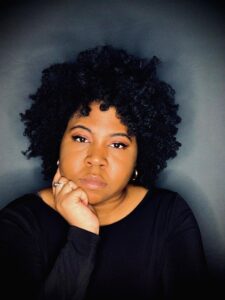 Ashley M. Jones is Alabama State Poet Laureate (2022-2026). She holds an MFA in Poetry from Florida International University, and she is the author of Magic City Gospel (Hub City Press 2017),  dark / / thing (Pleiades Press 2019), and REPARATIONS NOW! (Hub City Press 2021). Her poetry has earned several awards, including the Rona Jaffe Foundation Writers Award, the Silver Medal in the Independent Publishers Book Awards, the Lena-Miles Wever Todd Prize for Poetry, a Literature Fellowship from the Alabama State Council on the Arts, the Lucille Clifton Poetry Prize, and the Lucille Clifton Legacy Award. She was a finalist for the Ruth Lily Dorothy Sargent Rosenberg Fellowship in 2020. Her poems and essays appear in or are forthcoming at CNN, POETRY, The Oxford American, Origins Journal, The Quarry by Split This Rock, Obsidian, and many others. She teaches Creative Writing at the Alabama School of Fine Arts and in the Low Residency MFA at Converse College. Jones co-directs PEN Birmingham, and she is the founding director of the Magic City Poetry Festival. She recently served as a guest editor for Poetry Magazine.
Synopsis: What is the price of a life, a stolen culture, a stolen heart? In formal and nontraditional poems, REPARATIONS NOW! asks for what is owed. Moving between voices and through intersecting histories, award-winning poet Ashley M. Jones offers perspectives both sharp and compassionate, exploring the difficulties of navigating our relationships with ourselves and others. From the murder of Mary Turner in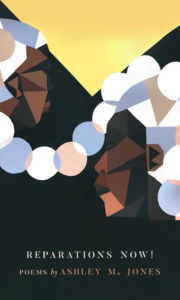 1918 to a case of infidelity to the oppressive nationalist movement of the present, Jones holds us accountable.
Jones reflects that REPARATIONS NOW! become a healing process for her—so many of its poems helped her to explore her own need for repair. She discovered in herself a need for repair from the trauma of white supremacy in America, from unfulfilling or harmful relationships, and from any idea of unworthiness she held inside herself. Though she didn't start out with intentions to write a book about reparations, Jones wrote about what she was obsessed with and let those obsessions and preoccupations carry her from poem to poem; before she knew it, she had a collection of poems speaking to a similar desire for liberation and healing. 
With regards to her intentions for REPARATIONS NOW!, Jones reveals that she hopes this book gives people permission to feel and to fight and to seek true accountability and healing from themselves, their relationships, and the country in which they live. Furthermore, she hopes that the people who come into the book thinking reparations are unnecessary leave the book with more empathy and an understanding of why it's so important in all facets of life. True to the core of REPARATIONS NOW!, she finally remarks: "I hope their hearts open."