Tension is building within the UAB community after the university released a statement from President Ray Watts denouncing a professor's tweet.
Parcak's post, recently removed from her Twitter page, was tweeted after the announcement of Rush Limbaugh's death.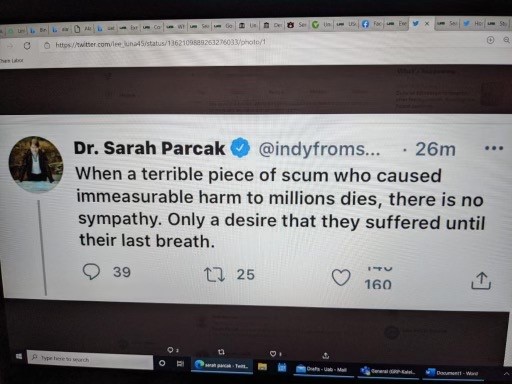 "UAB is disgusted and extremely troubled that Sarah Parcak would tweet something so unprofessional and blindly inhumane and cruel," Watts said in the statement. "Her poor judgement is completely counter to our shared values as an institution that include integrity and respect. She absolutely does not speak for our university, and we are reviewing the matter."
Adam Steinbaugh, attorney for national campus free speech organization FIRE, said Parcak cannot be punished for her protected speech.
"If there's another certainty beyond paying taxes and death, it's that people will tweet about those deaths — especially those of political figures with whom they disagree," Steinbaugh said in a statement. "Now, professors are facing calls for their termination for tweeting about the death of Rush Limbaugh. Public institutions cannot punish professors for the political viewpoints they offer outside of class."
Steinbaugh said faculty members do not lose their rights once hired by a college.
"While institutions may criticize the content of faculty tweets, there is nothing to review,and suggesting that they can investigate political speech will have an unacceptable chilling effect on protected speech," Steinbaugh said. "We encourage UAB to clarify that it has no authority to punish faculty for their extramural political speech."
Hannah Jurkiewicz, junior in English, said she received this message from her advisor following yesterday's statement from Watts.
"Per UAB Marketing and Communications, all Instagram and other social media posting for this week is cancelled," the message read. "We will resume our regularly scheduled posting on Monday unless directed otherwise."

Jurkiewicz said she wondered if this was related to yesterday's events that unfolded on Twitter, as there was no explanation for why no posts could be made.
"I don't understand why social media use would be cancelled for us as we are just promoting health and wellness topics," Jurkiewicz said.
Tyler Greer with UAB University Relations confirmed the cancelling of social media posts were directly related to the ongoing events regarding Dr. Parcak.
"As is standard practice in marketing communications, we sometimes recommend account holders consider a temporary pause on social media when posts are largely being leveraged for unrelated issues," Greer wrote in a statement.
After the university's verified Twitter account released the message from Watts, community members began offering their thoughts on Watts's message.
While some said they agree with his decision to dismiss Parcak's tweet, others disagree.
Twitter user @brob34 user said Parcak's tweet was reprehensible.
"Makes me ashamed to be a UAB grad," @brob34 wrote in a tweet. "You don't have to agree with a person's views, but to post such vile statements is inexcusable."
Twitter user @minionmemegirl said she organized with groups years ago when UAB hadn't spoken on the alleged white supremacy occurring on campus.
"How about addressing the complicity of UAB towards white supremacy and the recruitment for white supremacy orgs in your buildings," @minionmemegirl wrote in a tweet.
Another Twitter user, @courtnelc, said President Watts should have released a statement years ago when a teaching assistant was accused of being a white supremacist.
"I know this isn't on the social media team, but was this energy from Ray when we were complaining about the literal nazi on campus?" @courtnelc said.