Sept. 16, 2021 12:05 p.m. Update: This article has been updated to include statements from John Jones, Vice President of Student Affairs.
On Sept. 15, at around 3 p.m.,  a physical altercation took place between an unnamed student and a man named Daniel Rusk, a self-proclaimed Evangelist who visits college campuses to spread his message.
Rusk and his wife set up their chairs and posters on the sidewalk, which is city property, outside the Hill Student Center early in the afternoon with signs condemning women who attend college, lesbians and other groups.
Videos of the altercation show a student attempting to take his bag of posters. Rusk attempts to stop the student, then he and the student fall to the ground, fighting as UAB and Birmingham police enter and attempt to stop the altercation. This resulted in the arrest of Rusk. It is unknown if the student will be charged at this time.
"There was a concerning, very unfortunate altercation on campus yesterday between demonstrators and what appeared to be a student. We cannot comment further at this time, as this is an ongoing investigation," said UABPD in a comment.
On Sept. 16 John Jones, Vice President of student affairs sent an email regarding the altercation.
"They receive a permit from the city to exercise free speech rights guaranteed by the First Amendment of the U.S. Constitution on public sidewalks. As a public institution, UAB must allow and protect any individual's First Amendment rights to express themselves in a manner that is not disruptive to our educational mission," Jones stated in the email.
Jones stated in the email he could not detail or directly address the incident due to student privacy laws and the ongoing investigation.
Rusk's wife, Mary Rusk, posted a video to her Facebook after the altercation. She said the police arrested her husband and didn't arrest the student. She also repeatedly called a female police officer a "Jezebel" and "wicked" and said they intend to sue the officer.
At the end of the video, a UAB officer can be heard asking her to put her hands behind her back and telling her she's under arrest.
The signs the couple held also directed onlookers to a website called "Walkabout Jesus." The website includes their "Campus Truth Project", which aims to fight against "moral millennial madness."
"The free speech and liberty which used to allow the sharing of Gospel truths is quickly eroding, as college-aged students are being indoctrinated to consider any disagreement as intolerance, even as hate speech," the website states.
Before the altercation, the couple had attracted a crowd of students with their signs.
"Toxic femininity turned me into the Swamp Thing," stated one sign.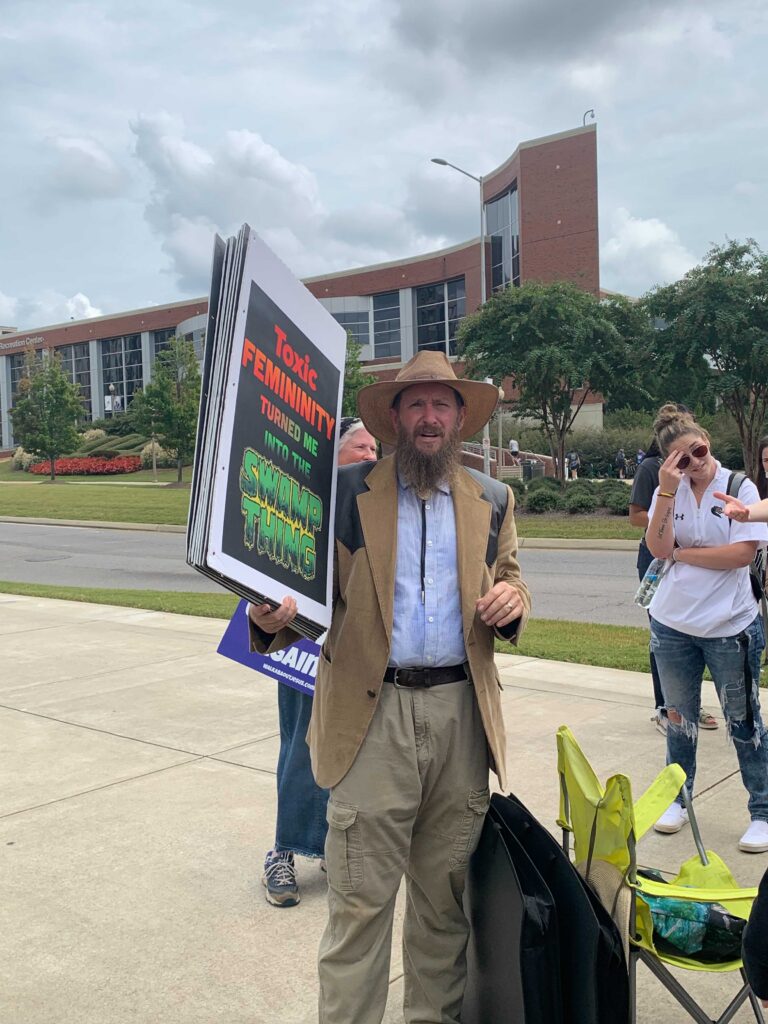 Both Daniel and Mary Rusk declined to comment when approached by Kaleidoscope before the altercation.
Students eventually came with counterprotest signs. One student's sign, later posted on the UAB Blazer's Barstool account stated, "MILFs are hot." Other students kissed in front of the couple.
"It's kind of cool how we all get to put aside our political differences and express that this makes no sense," said Caitlin, a junior marketing major.
Other students said that this was an intrusion on their safe space on campus and that UAB should condemn the couple's actions.
"They have come into our safe space that we feel is safe. It's a home that we made for ourselves. They have come to degrade women. They have come to put the LGBT community down for no reason other than just selfishness and feeling like they're better than everyone else," said Madison Burgess, a freshman majoring in finance. "I want UAB to say something because silence is complicity. Even if they don't have the power to get rid of them, to just let the students know that they don't condone this would be extremely helpful."
UAB Undergraduate Student Government Association also issued a statement condemning the actions of the couple.
"USGA does not stand with those persons who were spreading hate speech, and we do not endorse any of the opinions held by those persons. The use of this type of speech and invasion of our safe space to incite hate and ignorance will never be tolerated by USGA, as USGA stands for all UAB students," USGA stated in the Instagram post.