We've all heard the same line before, "Books are a dying industry." It seems that everyone either has a Kindle or smart tablet full of e-books or just doesn't read at all. What if I told you they were wrong, though, and that the book industry is thriving? Despite the hardships all stores faced in 2020, there were 1,700 independent bookstore companies with 4,100 running stores. This has almost doubled from the numbers in 2019. Most independent bookstores are even seeing an increase in sales compared to big box stores, and the reason why is common through all stores: providing a sense of community. Customers are more likely to buy when they feel connected to the staff and know that they can get great recommendations based on what they like. With that being said, here are a few independent bookstores in Alabama that you should check out if ever given a chance in no particular order.
Little Professors (Birmingham)
Little Professors is Birmingham's oldest independent bookstore and has seen many different owners and locations throughout its almost 50 years. The store initially opened in 1972 and has gone through its struggles, including being set on fire by an arsonist in the late 1980s. Despite all of this, Little Professors remains a phenomenal bookstore with a strong community. They offer book clubs, storytimes every Wednesday, personal staff recommendations, and an excellent coffee cart. Its relaxing atmosphere makes it easy to settle in with a book and coffee to get some reading done. 
Auburn Oil Co. Booksellers (Auburn)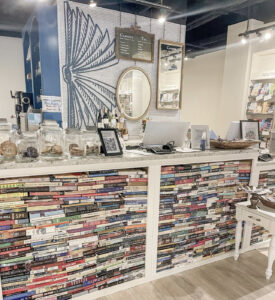 A relatively recent addition to downtown Auburn, Auburn Oil Co. Booksellers opened in 2019, and their name pays respect to a family business during a time when a gas station was a filling station, and the customers and staff knew each other. It's possibly one of the coolest bookstores I've ever been to as they have fun tiled walls, a counter built on stacked books, filled with cozy chairs you can relax in, and a whole section full of books that are "blind dates.". They also do various monthly reading challenges with the community and have a fantastic loose tea selection. 
Thank You Books (Birmingham)
Another recently opened bookstore is the community favorite and woman-owned bookstore, Thank You Books. The store opened in 2019 and is one of the most fun bookstores with a wide selection. They have book clubs, author events, storytime, and teams up with UAB's English Department for presentations. During the COVID pandemic while everything was shut down, they didn't let that stop them from providing storytime to children. The owner would record herself reading and then post it on Instagram for parents to share with their children. They also have many options for merchandise, and I'm a sucker for a good sweatshirt. 
Ernest & Hadley (Tuscaloosa)
Ernest & Hadley opened in 2016 and is run and owned by mother-daughter duo Easty Lambert-Brown and Avery Leopard. They believed it was essential to have a bookstore were all books of excellent quality, regardless of whether they were a New York Times bestseller or not, deserve a place on their shelves. Their store is set in a cottage with the coziest feeling. They believe it's their mission to provide a unique selection that includes new, used, and rare books, as well as creative materials from local and regional sources. They love receiving input from the community and provide space for author readings, book clubs, and artists to exhibit their work. Their staff also runs a fun Instagram page that includes reels from the staff. 
Alabama is full of phenomenal independent bookstores, each one offering a strong sense of community. They provide a level of customer service that you won't get from Amazon and are genuinely invested in your reading journeys. We could list so many more bookstores but then this would be a much longer read. So instead, be sure to check out your local independent store and show them some love!