I sat down with two of UAB's up-and-coming art students to learn more about this year's juried student exhibition at AEIVA and develop a broader understanding of Birmingham's storied art scene in the present day. The exhibition's sole juror, or curator, is award-winning ceramics artist Donté K. Hayes. Em Slawson is a graphic design major with two selected pieces, 3.5 Million and Untitled. Lawrence Schultz is an art studio major whose painting, Leaving Marks, was also selected for the exhibition.
Was it difficult or vulnerable submitting to the Juried Exhibition?
Em: It definitely felt vulnerable, but the process was very easy. All I had to do was bring them in. I pulled an all-nighter the night before it was due for the pill bottle.
Lawrence: We didn't really hear about [the exhibition]until, like, a week beforehand. I had just started a piece I wanted to do, so I basically spent an average of, like, three hours a day the week it was due and got it done with an all-nighter. It was so satisfying to be able to push it and finally come out with something on the other end of it. I felt like I had to push myself to do better than I'd done before.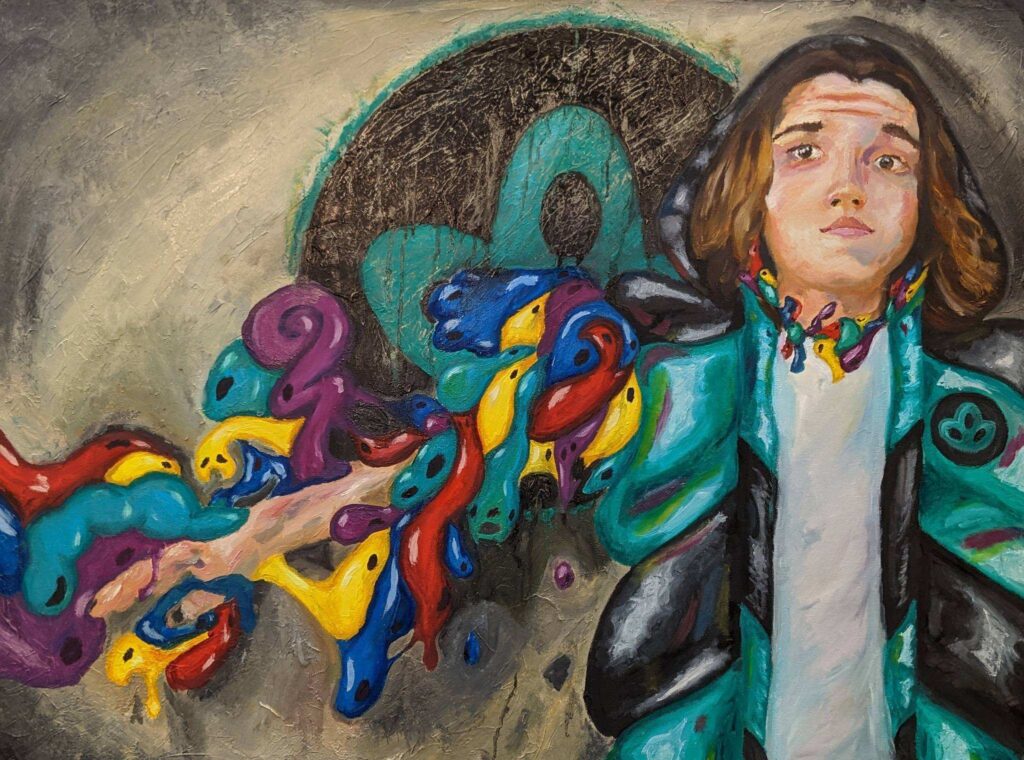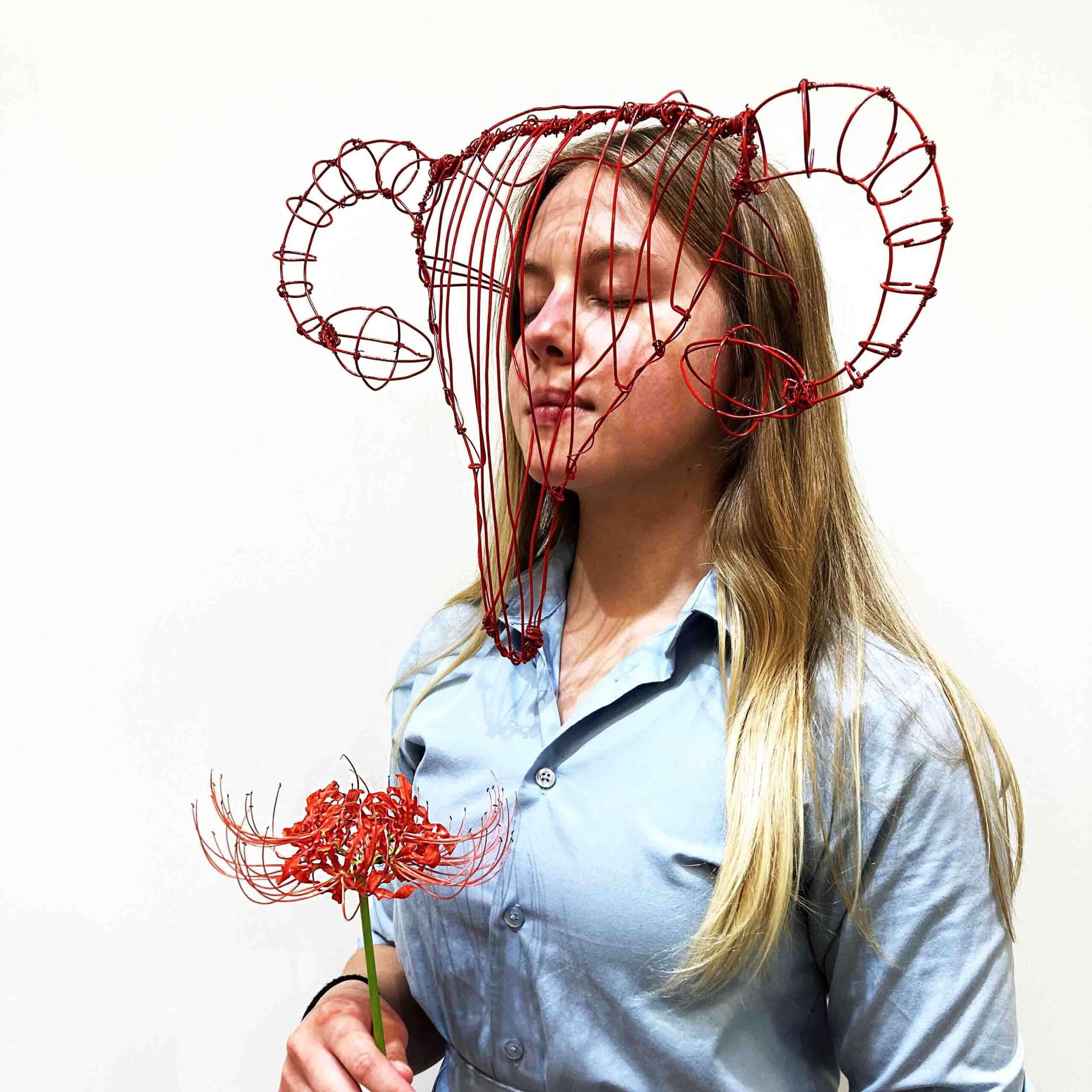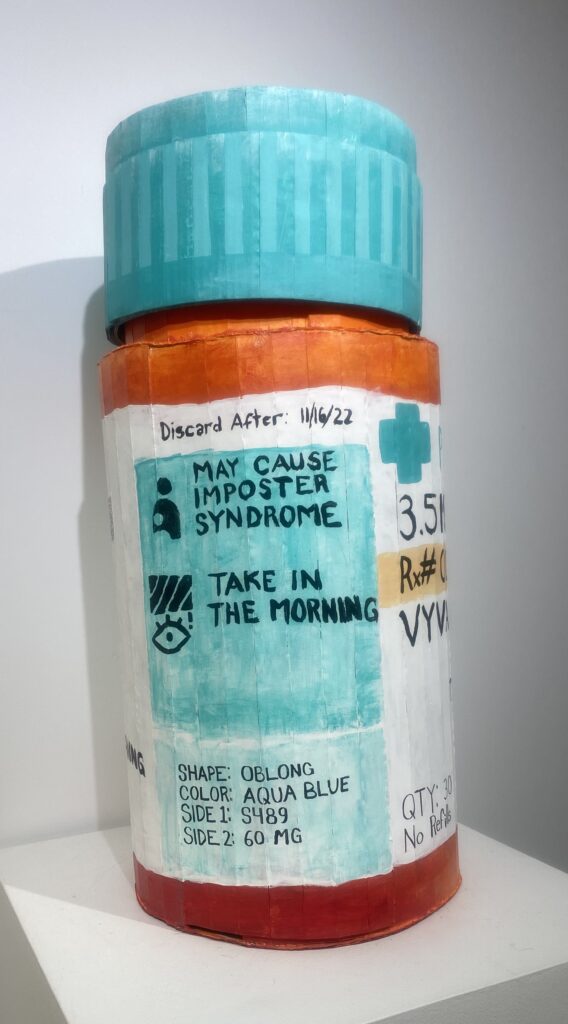 Tell me about your experience with the Birmingham art scene.
Em: I go to events occasionally, when I hear about them. I'm still testing the water.
Lawrence: I've always really liked Birmingham and I think its sub-art cultures are very cool. I've gotten a few opportunities to be a part of it, I was a part of Sloss furnace's apprenticeships program. That's a really great program to meet a bunch of cool people in the arts and everything. And then with UAB, you can meet a lot of cool people because a lot of people in the Birmingham art community will be teachers and they'll let you do tours and have people meet with you.
Do you feel that there are any misconceptions about these Juried Exhibitions or about putting yourself out there as a whole?
Em: I think that people kind of underestimate how important it is for us to get our name out. For example, I was telling my grandma about it this morning on the phone. She was like, "So like, what do you get from it? Like, what is the point?" and I was like, well, I get my name out there, and Donté K. Hayes knows my name now, and people saw it. Like, people at the exhibition took pictures of me next to the work, people I've never met before, and put it on Facebook! There's so many people that resonated with it, and like, clicked with it, and I didn't realize I would get that kind of feedback from it. It was good for me, understanding that what I was doing mattered.
Lawrence: I feel like for anyone going into it, especially building up through high school, just the general perception of art majors is that there's a lack of that kind of professionalism and that kind of equality. Like, they don't think that they could ever be on the level of great professional artists. I definitely think that there was work that was absolutely genuine high quality, that deserves to be in at least some form of show. If there was a misconception, it would be people who are hesitant to think that there would be good stuff [at a student exhibition]. But there was so much good stuff there.
Em: It didn't look like a student thing. Like, I'm not talking about my own stuff, I'm talking about everybody else's stuff. It was like, next-level, like really super impressive, really wonderful to look at. It's very interesting.
Lawrence: It's both an honor and very humbling to be with all of the other pieces.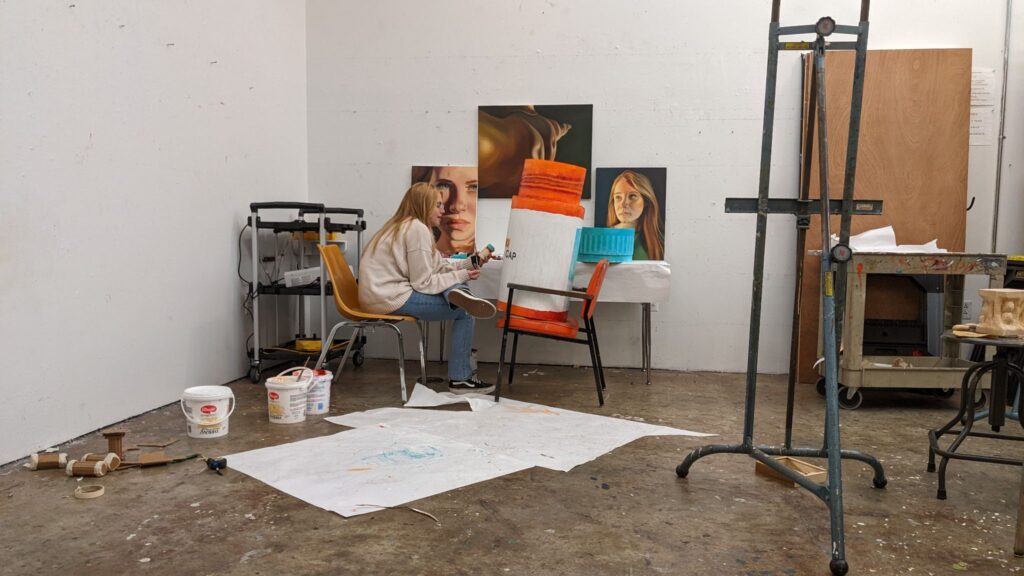 Tell me about meeting Donté K. Hayes. What was he like?
Lawrence: He is an enigma. I feel he is both the most casual and most professional person. Like, he is so down to earth and personable, but cares so much about the professionalism of his work and really cares about art being taken seriously, while also just being an incredibly chill guy.
Em: He cares a lot about students knowing their worth in art, and that resonates a lot with me because I've always kind of struggled with putting a label on how much I'm worth. He was pushing people to be like, "yeah, you're worth something, whether you realize it or not." We talked about my stuff and he was constructively critical, but it was really enlightening.
Em: I think I said, "What made you put this in here?" because I had my piece, 3.5 million, I was like, "Why'd you put that in there?" and he said, quote, "Just look at it. It's dope." That made my day. He's a really, really great guy.
Do you consider yourselves artists? Like, is that a label you would put on yourself?
Em: I'm getting more and more comfortable with it. I'm actually building my portfolio, and I'm doing it every day now, so I would say yeah, more now than ever.
Lawrence: I agree. It definitely used to be a lot harder to say, it felt unearned or like impostor syndrome. But the more and more you get to do artistic things like this, the more you can kind of feel an ownership of the label.
Does that mean you want to continue in the arts after you graduate?
Em: Absolutely.
Lawrence: Definitely. I can't imagine life without some aspect of the arts.
AEIVA's 47th Annual Juried Student Exhibition will be open to the public until March 25, 2023.