"Black Panther: Wakanda Forever" was an excellent follow-up to the first movie, especially given the circumstances surrounding Chadwick Boseman's passing. Ryan Coogler, once again, did not disappoint. That being said, the title of the movie is interesting for several reasons, chief among them being the cultural significance of the term "Wakanda Forever."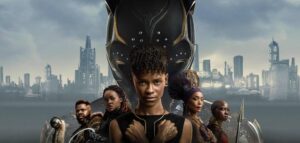 The poster for the new movie, featuring Letitia Wright, displays Shuri posing proudly but solemnly, her fists crossed over her chest in the now classic pose. This pose is almost always paired with the words, "Wakanda Forever." It is a salute, a greeting, a war cry and so much more. When the first movie dropped in 2018, many people adopted the symbolic act in support of the movie and everything it represented for the world's progress, as well as for Black culture. It gained a meaning outside of the fictional land of Wakanda, and at the time, that was an extraordinary feat.
This meaning is what makes the term—and the title of the second movie—so significant. It became a symbol of Black excellence and pride, especially in light of the almost completely all-Black cast combined with its 1.3 billion-dollar profit. It opened the door for other minorities to be represented by their heroes on the world's stage as well. 
However, the meaning of "Wakanda Forever" has shifted, and in no small way. It is now a call of defiance; an outcry of rage and sorrow; a promise to remember those who have been lost. Wakanda lost its king, its Panther, but the people of the world lost their Panther as well. Now, when people say "Wakanda Forever" and put their hands to their chests, they're remembering Chadwick Boseman just as much as they're remembering what the term means culturally. This is how the second movie gained its title; in a way, it's a memorial to him. 
In fact, the entire movie is made with respect to Boseman's legacy. It begins and ends with him in mind, both inside and outside of the universe created in the film. Throughout its runtime, there's a sense of longing, like something is missing. Far from an absence unplanned by Coogler, this feeling is a purposeful reminder that this story would not be the same had Boseman been alive to be in it. His absence wasn't planned, nor did anyone see it coming. It rocked each of the characters in the movie just as it rocked the lives of the people who entered theaters to see Boseman as the Black Panther.
The title of this movie remains impactful because of the meaningful connections it created amongst the actors, the story, the audience and Boseman himself. "Wakanda Forever" can mean many things, and now, it means one more: "Rest in power, Chadwick Boseman. We will remember you."