A handful of sign-wielding evangelists were at the center of a commotion outside the Hill Center on Friday. The demonstration was led by Daniel Rusk, who was arrested in 2021 for engaging in an altercation with a UAB student at a similar demonstration.
The group set up at the same spot on the same sidewalk that saw Rusk's arrest nearly two years ago, this time waving signs bearing phrases like "Love is not lust" and "Young women: You don't need college, you need faith, a Bible, and a good cookbook." They called to counter-protesters and unwitting passersby alike, shouting about a variety of topics ranging from abortion to self-harm to homosexuality. When asked what he and his associates were doing there, Rusk answered, "We're just Bible-believing, Bible-obeying Christians."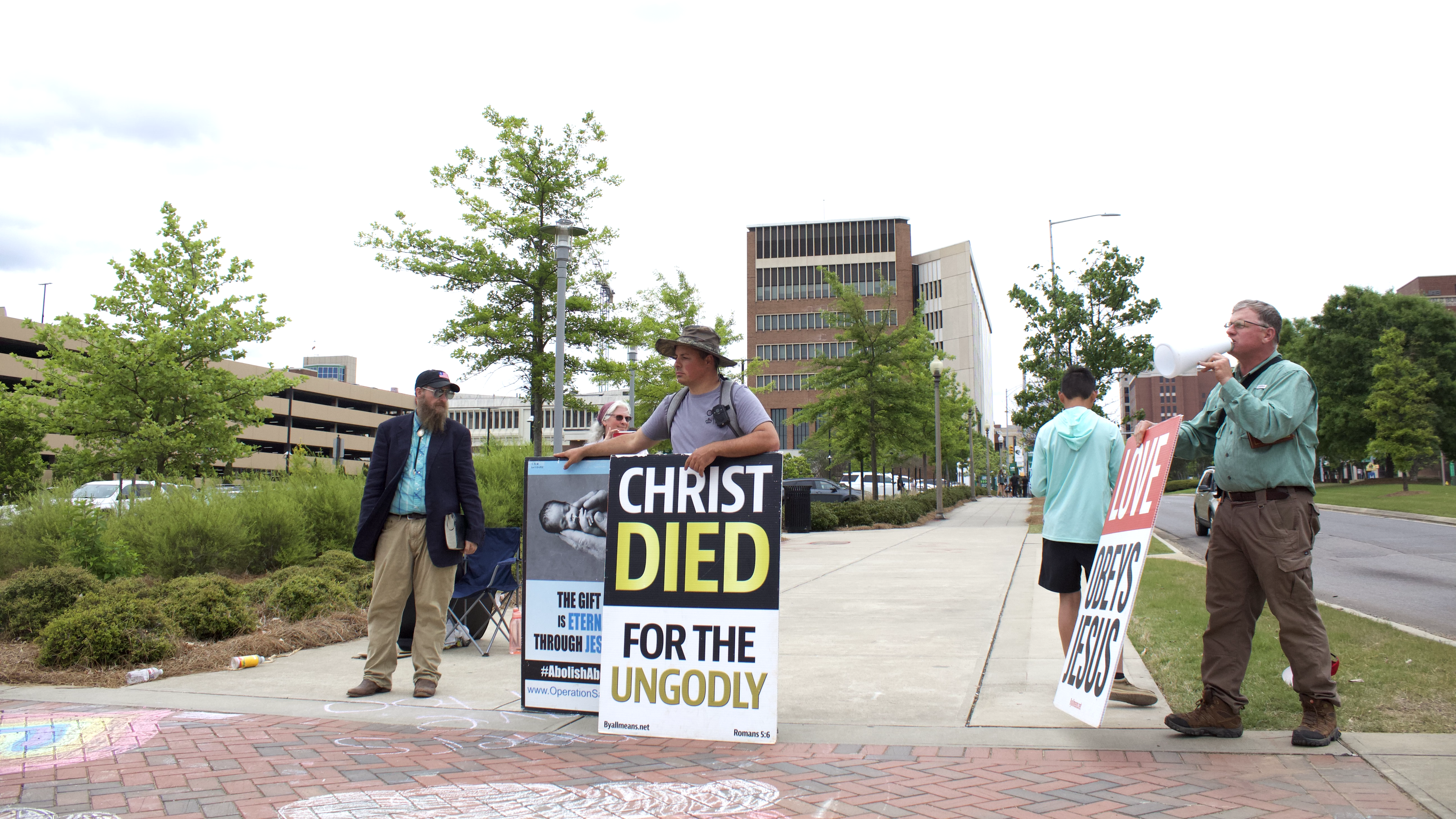 Blazers on the scene engaged in shouting matches and displays of nonconformity to Christian tradition. Those displays took many forms, with some opting to surround the demonstrators with LGBTQ-friendly chalk drawings and others showing up in drag to directly provoke the unwelcome provocateurs.
Some students, like Richard Laube, a freshman cancer biology major, talked to the protestors.
"I went into the conversation hoping to find an understanding of why people think the way they do about a certain topic. Instead, I feel like I was met with him trying to persuade me that I am going to hell. I saw it as very standoffish. I felt like there was no room to listen," he told Kaleidoscope after spending roughly an hour trying to reason with one evangelist. "It felt like he wasn't trying to understand my perspective. The conversation ended with 'You're going to be judged before God, and right now you're going to hell.' I saw that as very close-minded."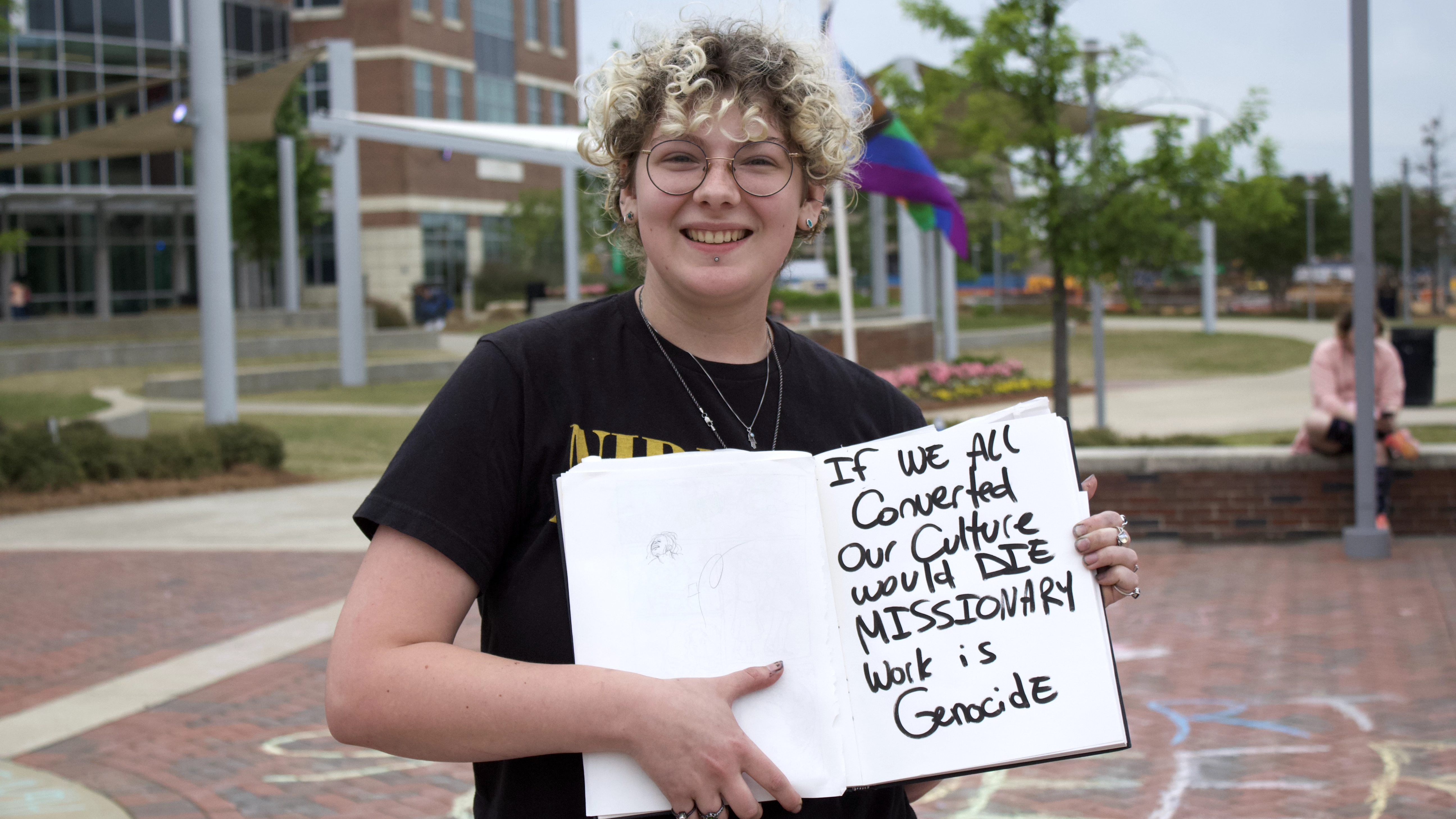 Ellis Goldstein, a senior art student, noted the Jehovah's Witnesses, who were quietly standing at their usual spot on University Boulevard.
"They're minding their business, they don't yell at us, they don't beckon people over, they don't pray loudly, and they don't stand where you have to walk past them to get anywhere," Goldstein said.
Leland Burress, one of the two Jehovah's Witnesses working the Hill Center stand that day, was quick to distance the demonstrators from what he and his partner were there to do. "We're totally separate from those people," he explained to Kaleidoscope. "They're entitled to their opinions and so forth… we don't want to antagonize anybody, we just have a positive message, and we leave it at that."
Ali Kesserwani, a junior anthropology major, said most of the protesters upload and monetize the reactions they get online. "Notice they have the little GoPros," he said, gesturing to the small cameras each of the protesters had attached to themselves. "The best thing that we can do as students is to not give them attention, because by giving them attention we're basically putting money in their pockets."
Gabriel Olivier, another member of the congregation, explained that he and his cohorts' appearance in Birmingham was a stop along the way to their destination in Talladega, where they planned to take advantage of the year's biggest NASCAR event to preach to a large captive audience.
UAB staff members and police officers were present at the demonstration, which ended without incident.